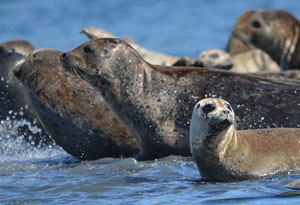 Land Forgotten by Time
Given the secluded nature of the Hidden Basin, it's an ideal spot for wildlife to seek refuge. Teaming with countless varieties of birds, seal, porpoise and whales, this hidden basin will keep you wondering what's next. And nothing is more exhilarating than meeting a bear in person. You might even get to see wild buffalo.
A Bird Watcher's Paradise
If your a member of the National Audubon Society, join the Birdathon. After your trip into the hidden basin your species count will go through the roof.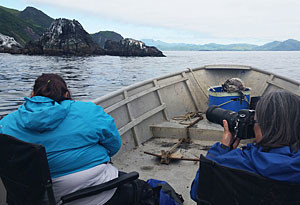 Bring Your Camera, you can expect to see:
Seals
Whales
Porpoise
Sea Otters
Puffin
A Variety of Sea Duck
Eagles
Fox
Black Tail Deer
Mountain Goat
Kodiak Brown Bear
And so much more…
Whale and bird watching, photo safaris, sight seeing, hiking and beach combing are relaxing ways to while away the hours. Please click here for photos.
Please click the photos below to see a larger view.