Hidden Basin provides all the comforts of home.
The large dining room, living room and deck have a panoramic view of Hidden Basin. Comfortable, private rooms are available in double or single and have a mountain and bay view as well. A banya, an island steam bath, stimulating conversation and meals to satisfy the heartiest of appetites, (many of which include local seafood) make this a truly Alaskan experience.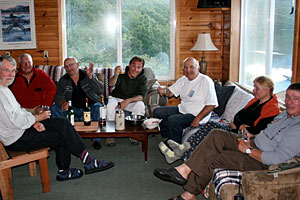 Generally we accommodate six people weekly, however for private parties, exclusive booking of the lodge is available upon request. We do have a daily rate although the majority choose our six-day package.
From the time you reach the shores of beautiful Hidden Basin until your departure, a unique and memorable Alaskan experience awaits you.
Please click the photos below to see a larger view.