Have you stayed with us at the Lodge at Hidden Basin?
Click here to tell us about your trip!
What some of our guests say
"Heaven on Earth! Thank you for teaching me how to fish! I've overcome my fear of touching those ugly creatures. Your home is absolutely beautiful." - Melissa Moore "Thank you very much for such a wonderful time! My first vacation in twenty years and well worth the wait!"
- Steve Moore, Eugene, OR
"Definitely a life time experience! I enjoyed every minute of it. Your kindness and hospitality is very much appreciated. You helped me gets the reds so I'll keep my end of the agreement. Super Bowl XXXVI!"
- John Ramsdell, St. Louis, MO
[From Nick: "John was the quarterback coach for the St. Louis Rams when he stayed with us in 2001, the quarterback was Kurt Warner. The Rams won
Super Bowl XXXV
in 2000, and then went to
Super Bowl XXXVI
the next year. Really good guy"]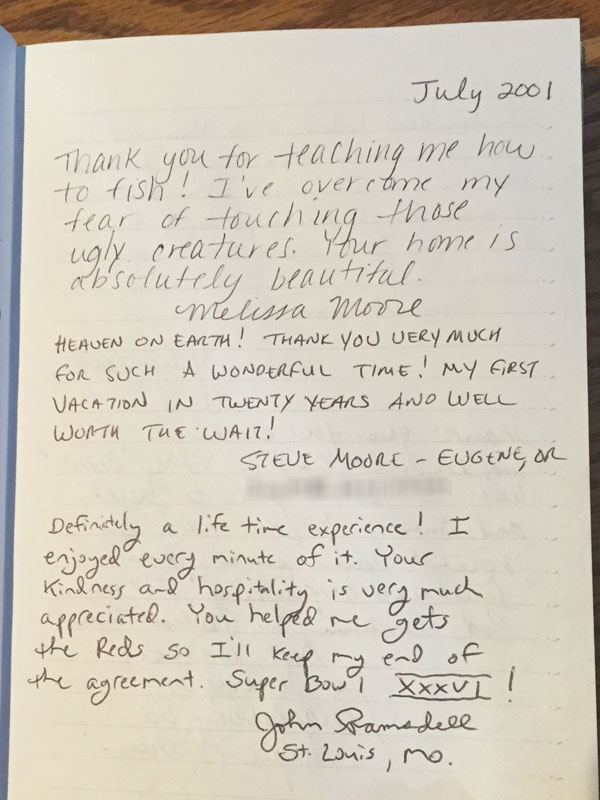 "Nick, Roy, and Jeff, You told us that this would be an adventure of our lives. You were so correct. Thank you so very much for accommodating a couple of greenhorn dudes. It isn't often that I find an environment that is so relaxing yet exciting. This is truly God's country. We loved the way you made us feel so much at home & made us part of your family. Your approach to this venture leaves us not feeling like part of a commercial venture, but rather guests of old friends. We loved the stories. If you need a live-in lawyer, let me know. Best wishes and many thanks."
- Jim Murphy, Spokane, WA
"Nick, Theresa, and Roy, What an exciting adventure. We saw everything... bears, whales, puffin, dolphin, eagles, fox... not to mention all the fish we caught. This was a vacation of a lifetime. Thanks for sharing your environment and hospitality, and for accommodating all our unusual eating habits. It will be hard to go back to Michigan and not see these beautiful mountains. Maybe we'll be neighbors some day! Hope to come back again."
- The Sprengles, Washington, MI